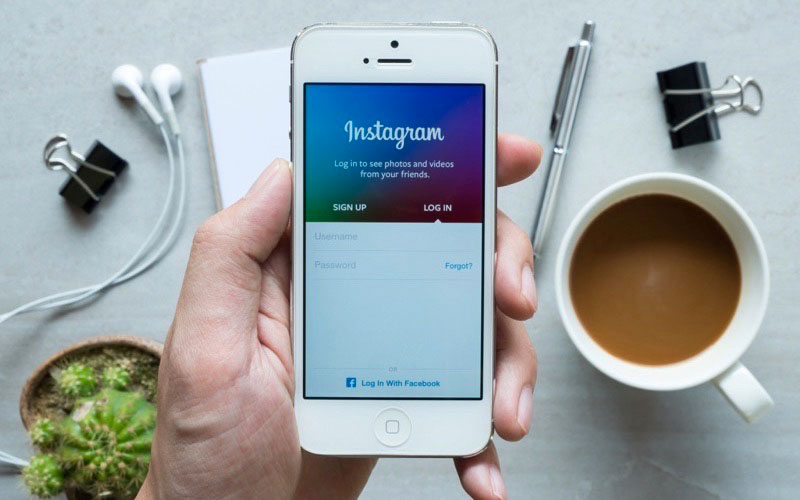 If you want to build up your brand or personal account, or if you're an affiliate marketer that wants more sales, Instagram is a social network that should be at the top of your list, because it can be a highly-targeted marketing channel that has been proven to be highly effective.
In this article, I will list all the key points on how to efficiently grow your account followings, and ultimately build up your brand / business with the help of your Instagram account.
Foreword: Social networks are not made only for selling, their platform is made to connect people. Don't be the rush guy that goes off commenting on any photo about his product or service, this will only annoy users and not earn you anything but some dimes.

A social network is made for connecting people in their free time, so if you post content that is interesting for your users, while taking the right targeting approaches, over time you can convert them into customers. Just don't take the opposite approach.
Profile your account under a clear theme:
This is the first step in growing a successful Instagram account. Choosing the right account theme, implies that you clearly know what your account will be about, and the bold message it will transmit to the world. Thus, (unless the account is your personal account / represents you in a business, and have to add your real full name and portrait photo, and sometimes posts about your private life) you need to stick to a theme, and this can be achieved by customizing the following things:
Username: This should reflect what your account is about, in a word or two, or it can also be abstract, but not too random or related to another niche. Make it easy to remember.
Full Name: Optional. If needed, you have more space in describing what your account is about.
Avatar photo: It can be your brand logo or any image that will best represent your niche. Make it visible, so it will stand out even on smaller screens.
Message of your biography: Is what you state in the biography (also posts captions, or the visuals of your photos & videos makes up for the message). Make your messages catchy.
Type of media you will post: Your photos and videos should be highly relevant with the subject of your theme. Add the best quality media you can create / find in your niche.
Great examples of well themed accounts, take notes and apply: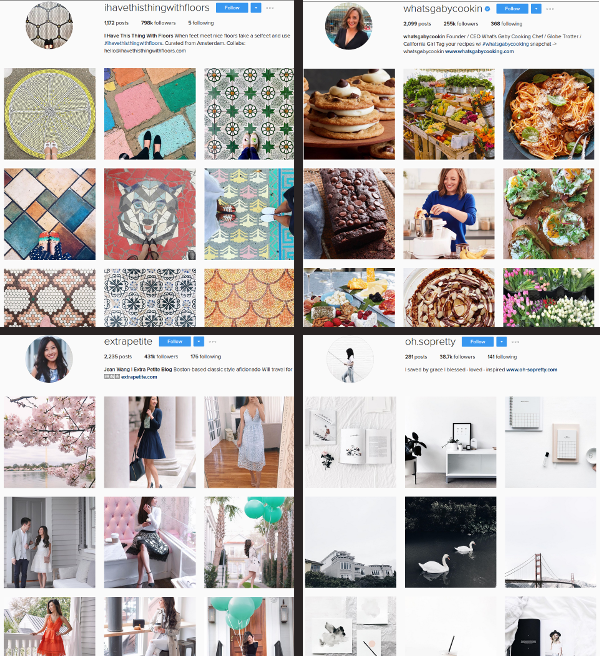 Add a strong call to action in both your biography and posts:
On Instagram, your account biography is crucial. The only way to get as much attention and clicks to your external site or statement in your biography, is to make a strong call to action that clearly specify what your account is about and why users should act on it. To create such a CTA, you need to be as simple – but as specific as possible (because you're limited to about 150 characters). Get as much value as possible from this section by saying / offering something that your users will really love. Make it stands out from the usual.
Also, with most of your posts, remind your followers what your account is about by stating your CTA in your captions. Feel free to diversify your captions so your followers will not get bored with the same text over and over, and sometimes also add normal captions that are simply describing the image / video posted, without any CTA.
Find the best #hashtags for your niche:
Tip 1: Use tools like Websta to find relevant hashtags for your niche.
Hashtags can look annoying for newcomers, but these are used to easily navigate to interest based topics in the social network – and this is where their magic comes into play. Clusters of targeted users are floating around these specific hashtags, so if you want to gather the proper audience for your account, this is where your posts and actions needs to be and interact.
Attaching hashtags to your posts makes your account discoverable by new targeted users. Giving likes to posts, or following users that posted with specific hashtags, will get you notified to other users interested about those niched hashtags, and this is exactly what you want.
Research and compile a list of hashtags that are related with your account theme and niche, then use these hashtags when posting media, or when searching for new users to interact with. This will greatly increase your following base.
Examples of building relevant hashtags (for more niched accounts, also find and add the most relevant hashtags, not only the main-general ones):
For a fashion themed account (#elegance #fashionshow #pretty #style #sweet #star #glam #gorgeous #fancydress #vogue etc..)
For a car themed account (#automotive #motorsports #carsofinstagram #power #performance #luxury #instacars #autotrend #carlover #carsandcoffee etc..)
Example of more niched hashtags (#motorpsorts -> #audi -> #audir8 -> #r8wheels). Hope you get the point.
You could use the mainstream popular hashtags, but while it seems tempting to do so, it will mostly reach to random users: they hold almost zero value for marketing purpose of your specific niche (except niches that are targeted to a mass audience like quit smoking, weight loss, muscle gain, make money, etc.. that can be targeted to almost everyone).
These hashtags can be found in various lists and can include: #love #instagood #photooftheday #beautiful #happy #cute #followme #like4like #picoftheday etc..  but like I said, it is mostly good for inflating your follower count with random, un-targeted users, so I advice against it, or at most, you can do it once in a while.
Tip 2: Save your groups of hashtags on your phone in apps like Wunderlist or Evernote, later, when you'll add a new post just copy and paste them to your captions.
Tip 3: Use a hashtags and captions generator tool. This tool is working with many niches and for multiple social networks. It will save you lots of time from thinking and writing the needed hashtags and captions for your posts.
Tip 3: If you have older media posted without hashtags, you can revive them by commenting on them with the proper hashtags. They will start to be found on those hashtags, bringing in some more traffic.
Post content that resonates with your target users:
It is very important to post the right content for your audience. Find out what your target users enjoy on Instagram and populate your account with similar images. A nice way too see what your audience is liking, is to check out what your competitors in your industry are using for their sites and accounts. Visually appealing photos works wonders.
There are of course mainstream pictures that are greatly liked by Instagram users: motivational quotes, humorous posts, beautiful scenery, quality food, luxurious products, etc.. but if your niche is not found among these subjects, yous should keep this type of posts to a minimum.
On Instagram, engagement is the most wanted, so make sure to post on-topic images and videos (along with the relevant hashtags) to your account, that will attract positive emotions and interactions.
Post consistently (at least once a day):
It is known that the biggest accounts on Instagram are adding 2-3 posts a day on average. We can conclude from this statistics that consistency in posting is the key for a successful account. On the other side, if you post more than 2-3 times a day, and two or more posts at a time, you may annoy your users and they can start un-following your account (unless you have a personal account and users are genuinely interested in what you do every day). One photo in the morning and another in the evening, can be a good balance to relate on.
By regularly posting quality content to your feed along with the proper hashtags, you'll ensure a continuous flow of new followers, while you're keeping your current followers base happy. Don't forget to add your CTA in the caption of your best posts, it will remind users to check your bio / visit your site.
Tip 1: You can also add engagement encouragements like "double tap if you agree" or "tag a friend who will like this". These type of captions can help in spreading your posts even more! Make use of it now and then.
Tip 2: You can schedule your posts by using paid apps like Later or Schedugram. These apps will not post for you, you must do the posting from your Instagram app, still, it is a great tool to keep your posts organized and scheduled so you can make sure you keep a constancy in adding content to your account.
Tip 3: Make use of a social post creation service like Postifyme. This way you will have ready-made posts that you can schedule for months, and for more than one account.
Post at the right times:
Depending on your targeted demographics, start posting at the times considered to have the highest engagement for a particular area. For example, if you target people from US, studies shows that the best times to post on Instagram is 2-3AM and 4-5PM, make the most out of that times.
Interact using the most efficient targeting methods:
The below targeting methods, if used strictly and consistently, will ensure two things: 1. The users you interact with are interested in your niche. 2. They are active and will have the chance to see your interaction notification, resulting in the chance of following you back, sometimes almost instantly! (Recent media you should look for must be posted few seconds to few minutes ago at max.) This combination will skyrocket your followers base to new levels.
Liking recent posted media on a target hashtag.
Following the recent followers of a competitor account. (start at the top)
Following the users who liked a recent posted media on a target hashtag.
Commenting on recent posted media on a target hashtag.
All the above techniques must be limited to a maximum number of actions per day. Usually, the maximum numbers are about 400 followings, 800 likes and 20 comments. However, until you will use the maximum actions for the day, you first need to progressively increase them by starting low, so don't go directly with the maximum if you want to ensure the good standing of your account!
Tip 1: Using a combination of follow, like and comment to users, will give you a generous boost in the follow back rate compared to only following them, or only liking their posts.
Use the right user filtering:
Filtering who you interact with is also an important factor, especially if you want to grow your account as quick as possible. If you don't pay attention to whom you're spending your activity time with, you may end up with poorer results in this regard.
Do not follow people that have more than 2000 followers or more than 4000 followings (a rough estimate). This will ensure the accounts you follow are also willing to follow you back (because they have up to 2k followers and doesn't feel too superior to your account), and that are real users (because bot / fake accounts can go up to 4k-7k followings). There can be lots of exceptions on these suggested limits, but it is more effective to stick with them than not at all.
Do not follow people without avatars, or without any media on the feed (ideally, the last media should be posted maximum 10 days ago, so the account can be considered relatively active). Accounts lacking avatars and media can be considered of a lower quality in general, but of course, some of them could be active in a way or another, or only lurking around. You can follow some of them, but the active users are preferred.
Do not follow people that are promoting a company, products or services in their bio, unless you're specifically targeting them. Usually, accounts that promotes something have a call to action in the form of a sales phrase to check their product out, and a website link for it. Most of the time, this type of accounts are not interested in checking out other people's products, they are mostly focused with trying to sell theirs. Look for regular people accounts instead, with usual avatars and natural biographies describing their life, or with random statements.
Network and socialize:
Networking can do wonders and will also add a touch of personality to your account. Don't overlook the power of engaging in conversations with other Instagrammers: Genuinely commenting on other people posts, responding to other comments, sharing media from other accounts and making connections, can quickly bring your account to new heights.
You can find people in the same industry, that are willing to exchange shares that will benefit both of you. You never know what can happen down the road, people can recommend you to their friends, or maybe share your account / posts on other social media sites.
Using shoutouts to grow even further: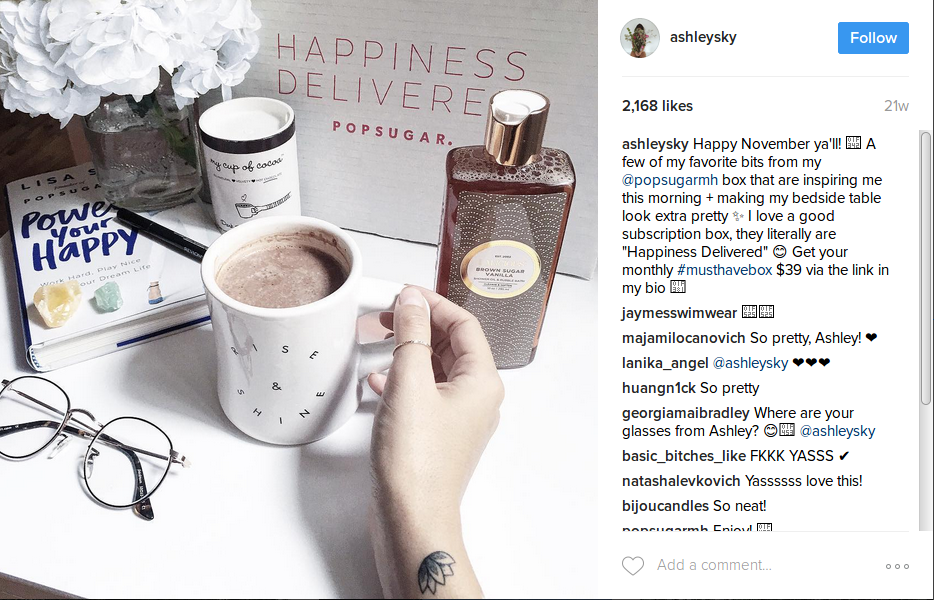 Shoutouts are a very powerful way of getting targeted followers. A shout is made when someone (preferably someone in your niche, having a big amount of followers) post a photo on their feed that promotes your account, resulting in some of their followers going to your account to follow it. To get started with this, find popular accounts that are activating in the same niche as you do, and reach out to them (by direct message, KIK username, or email if they have it in bio) asking if they are willing to do a shoutout for your account and how much it will cost.
When you'll reach a big amount of followers (10k+, 100k+ and more) you can make shoutout exchange with other big accounts in your niche, so there will be a time when you can grow your account for free.
Don't be shy to approach others and ask for shoutouts, but you must carefully choose the right accounts for this task. Don't choose accounts based only on the follower count (these can be inflated with fake purchased followers), instead, make sure their account are having a similar theme with yours, and that their posts are of high quality. Also, inspect random users from their followers base and check to see if they match the possible buyer persona needed by your niche (including the right demographics, where you have the chance to check this by location of posts or other clues in the user bio).
Another check is by inspecting some of their latest post, usually, a genuine account should have a number of about 3%-10% of likes from its amount of followers (an account with 100k followers, should ideally have anywhere between 3k to 10k likes per media posted), this is a good way to check quality of an account.
Only after this safety checks you can decide to pay the amount for the shout, otherwise you might spend money in vain. And as for every private deals on the web, you must be cautious and aware of the risks involved. Also, there's no guarantees a shoutout will make you some good results on investment, the relative outcome can be learned in time after gaining enough experience in choosing the right account and the best fit of image and caption.
There are mainly two types of shoutouts, and they differ on effectiveness and pricing:
Caption shoutout: The account will mention your account in one of their regular posts. You will get less exposure but the cost is cheaper.
Your image + caption: This is more effective in gaining exposure, but it is also more expensive. The post is left on the feed only for a certain period of time.
For maximum efficiency, you need to get the most out of your image and / or call to action phrase. This is similar to a well-crafted AD in a newspaper or on TV. Behind such ads there is a lot of thought, sales techniques and psychology, to convert as many people from a tiny time / space of the advert. So take the necessary time and expertise to craft your best winner ad.
Other tips for growing your account:
Share other users content (and credit them while doing so);
Ask users to tag a friend in your posts;
Run a contest to increase exposure;
Geotag your photos;
Create a unique hashtag and ask others to use it in their posts;
Link your Instagram account to your other networks;
Embed a Instagram widget on your blog sidebar.