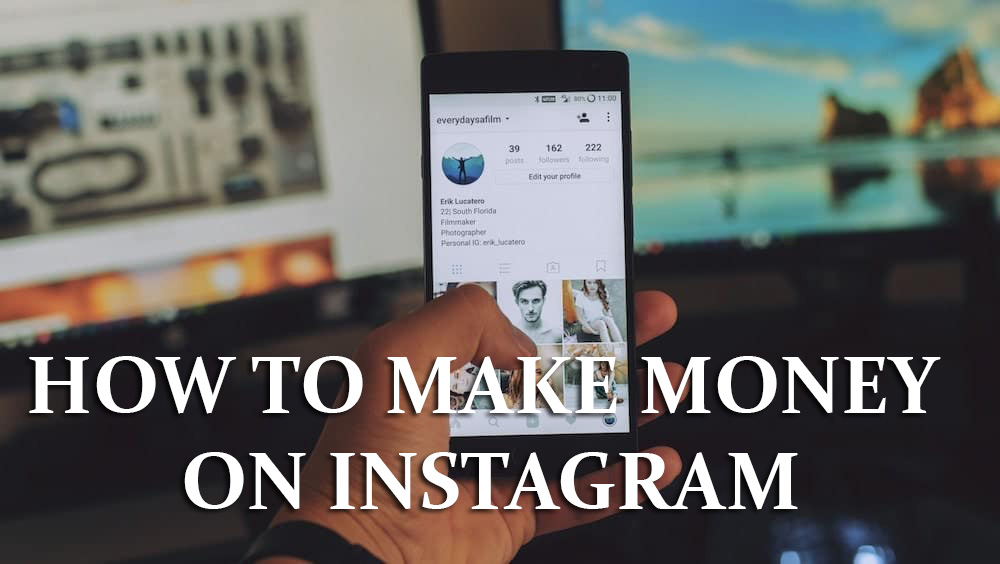 There are many ways to make money on Instagram, some of which you may not have considered. In this post, we'll dive into a few of the most popular ways to make money on Instagram, and share some tips for getting an extra or full-time income.
1. Affiliate marketing
An awesome way you can make money on Instagram is through affiliate marketing. Affiliate marketing means that if you refer someone to buy something, and they end up buying it, you get a commission. You can set up an affiliate link with a site like FlexOffers to earn commissions for every sale.
However, there are some things you should keep in mind before using this strategy…
You must be very careful about what you're promoting, and make sure that it is something that you believe in, and that will be good for your Instagram followers. You don't want to promote anything that is scammy or will not add value to your followers' lives.
There are many people on Instagram selling products they do not use or know of, only to make a quick buck.
The best way is to take a genuine interest in the product you are promoting, and use it yourself. That way your followers can tell that you're recommending something because you actually like it.
2. Your own products
If you are an artist or digital product creator, you can also sell your own products or digital downloads.
If you have a passion project, a personal brand, or even a skill you've developed in life – why not turn those into a product and sell it?
Do something you love or you're already good at – If you are an expert in a certain field, consider making it into a product. If there is one thing you love doing, find a way to create your own little niche in that field and make it into a product.
Not only will you be able to increase your own income, but you'll also have the opportunity to help people and make money at the same time.
3. Selling Instagram shoutouts
You can make money by selling shout-outs on your Instagram account. Shout-outs are similar to affiliate marketing, except the person who sells them is charging for their shout-out instead of receiving commission for it.
A shout-out is when you post a photograph of something that you like or love, and tell people to go buy it. This could be anything from a book, album or a particular product. You then provide a link to where they can buy the product from.
Things are slightly different if you sell shout-outs on Instagram instead of doing affiliate marketing.
With affiliate marketing, you make money when someone clicks on the link and buys the product. With selling shout-outs, you make money when someone actually buys a shoutout on your page. This means that getting paid is easier, however, to be able to sell shoutouts, you need to have an already established audience in a certain niche.
4. Coaching or consulting
You can also sell services like coaching or consulting on various niches. Not only will you be able to help other people by giving them advice, but it's also a great way to make money on Instagram. Choose a topic you have experience with and start sharing relevant posts on your page.
Some good performing niches are:
– Health & Fitness
– Small business
– Relationships
– Career
– Parenting & Family
The next step is to create a landing page with pricing for your coaching, add it in your Instagram biography then start collecting leads through it.
5. Services that help with Instagram growth
Another great way to make money through Instagram is by promoting products/services that helps with growing Instagram accounts, through your affiliate link. These services can be Instagram post scheduling apps, profile management services and content creation.
Below I will list a few services that do just that and that are having an affiliate program:
– Hootsuite
– Buffer
– Canva
– Sprout Social
6. Account flipping
One of the newest ways you can make money on Instagram is by growing and selling accounts, sometimes referred as account flipping. Technically, flipping is about buying for lower and selling at a higher price. But I wanted to add the option to grow and sell accounts, as it can be a lower entry point for beginners.
While this method certainly isn't going to work for everyone, if you manage to simultaneously grow multiple Instagram accounts to large following (from 5k and more), then there's a chance that someone will be willing to pay you for it.
There are several sites that intermediate such deals, one of the most popular being FameSwap
7. Partnerships
Lastly, if you are already getting people to buy something from you in some niche market, it is easy to pair up with someone who has similar products as yours and then sell them together as a bundle deal.
You're both going to promote the bundle deal on your pages. This can be a simple way to reach to a larger audience and make some extra money by simply partnering with someone in your niche.
There are many different ways to make money on Instagram and all of them have their own ups and downs.
I hope this post cleared out some of your questions about how to make money on Instagram. It can be difficult finding a method that will work for you, but if you are determined enough to put in the work, then you'll have no problem getting results sooner or later.
Marketing on Instagram sometimes require multiple accounts
If you want to build multiple niche channels or want to scale more,  you will likely need more than just one Instagram account. This is where we can help:
We offer fresh or aged Instagram accounts at affordable price – just perfect for your Instagram marketing project. The accounts comes with safety usage tips and we offer customer support via Email, Skype and our Discord server.