Description
Our automated crypto trading bot earns you profit from small price movements of assets, 24/7. Automatically earn small profits that cumulates over time without you having to do nothing about it.
Smart grid trading
Customizable play balance
Automated risk management
Uses Binance API key
Simple to use console interface (no graphical user interface)
Working on systems based on Windows 7 and up
Estimated earnings in a sideways market is $20/day using $2k balance.
Your purchase is lifetime without any additional costs or monthly plans, it includes one-on-one support for getting the bot up and running and learning how to use it, and ensures lifetime updates.
Take a look on how to obtain your Binance API key. Please note: Set your Binance API keys to only allow reading and spot trading, leaving the withdraw option disabled.
Another mandatory feature you need to set is adding your PC or server IP so that operations with your API key can only happen from inside your computer, where the bot is running.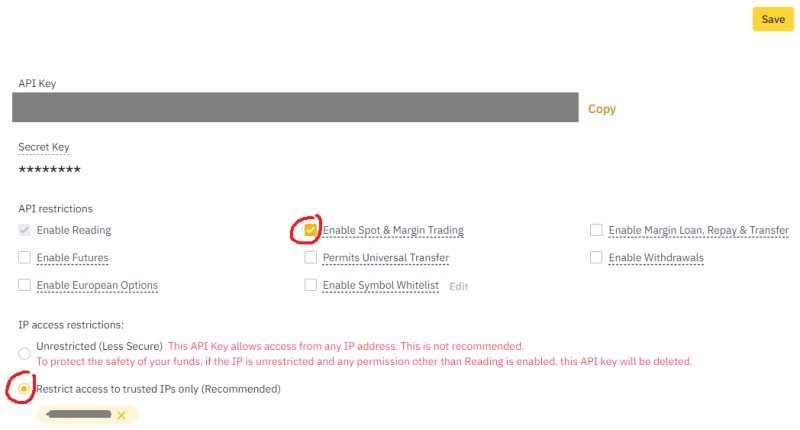 Your API keys are end-to-end encrypted within our trading bot. We don't store them, and are only used on-the-fly by the bot to perform the buy/sell operations (when price movement is validated) with the balance amount you specify. Also a security feature from Binance, as you can see above when setting up the API key, is you add your PC or server IP as the only source of accepted API calls.
Choosing to pay by Crypto, will make your purchase completely anonymous.
Soon we will publish our API key management module to GitHub.
Markets always move, why don't take advantage of that? Happy profits!