Description
Get a SpinTax to generate plenty of DM's, Comments, Descriptions, Short Forum Posts & Email Messages, so you can SCALE UP your marketing efficiently, without network blocks.
Having unique versions of your messages is the first step in avoiding network block filters (content blocks, ghosting and bans). Furthermore, having many varied phrases for your marketing messages, titles and descriptions, is an obvious benefit especially when you want to scale out online.
Use cases
Usage on social media sites, forums, blogs and other type of marketing channels, as follows:
– Direct / Personal Messages (DM's, PM's);
– Social posts, captions and comments;
– Profile biographies and descriptions;
– Email and SMS marketing;
– Forum signatures.
– Populating empty pages / profiles, with short biographies or descriptions for SEO or direct traffic.
Benefits
– Avoiding network and platform content filters, allowing your messages to pass through, and your profiles to survive.
– By producing virtually unlimited copy versions of your marketing messages, you can customize large sets of profiles into individual promoters for your niche and offers, scaling out more.
– This is a long-term investment, compared to buying one article which you can use once. You can keep re-using your SpinTax whenever you need it.
Why should you choose our SpinTax creation service?
We were developing complex SpinTaxes since the early stages of social media marketing. We develop a 25+ words single phrase into a 500+ words nested SpinTax, capable of outputting an immense number of message versions which can be able to avoid any content filter.
If you're not sure about the power of it, try to spell 9223372036854775807, that's the total number of possible text version from a nested spin of 700 words we created (see below screenshot).

What we deliver?
– We will take your base message (25-100 words) and develop it into a complex NESTED SpinTax totaling 500+ words, capable of producing multiple, unique and human readable versions of your message, while preserving it's original intention.
– The results will not be a simple dry sentence with replaced synonyms, but will be structured to output different formatting and different sentences between spins.
SpinTax example (simple and not nested):
What do we need from you?
Your base copy / message ideally of at least 25 words. Add it in the 'Enter base message' box, or in the 'Additional Information' box during checkout.
The maximum character length of resulting phrases. For example, Instagram biography section only allows maximum 150 characters.
Extra instructions: If you can clearly communicate the intent of your message (what you want to achieve, what you want the readers to act on), then we can better tailor your spintax to reach your goals. If you have any other instructions we shall follow, please add them along with the message.
Example of instructions for making a SpinTax :
Example message: "Let me help you transform into better. I design 100% custom nutrition and workout plans for both males and females, available worldwide.";
For Instagram biographies directing visitors to my fitness coaching website;
Phrase structure should change and not stay the same between results;
Resulting phrases should not exceed 150 characters.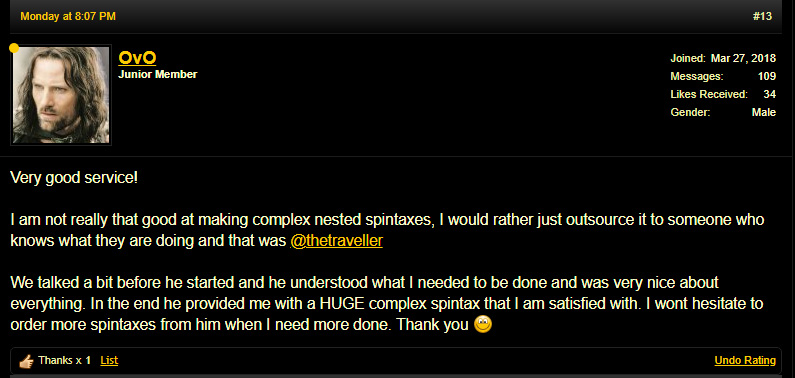 FAQ
Who needs this service?
Marketers in need of many short marketing copy / messages, either for added diversity, or for avoiding their messages and profiles being blocked. For populating empty pages / profiles with short biographies or descriptions, so they can have an added value either for search engines (SEO), social media search engines or for direct referral traffic.
Are you creating SpinTax for articles?
No, this service only deals with short messages and descriptions of up to around 100 words maximum.
How long does it takes for completion?
Usually up to 72 hours for a 500+ words nested SpinTax (total word count inside the spin). During busier times, delivery may take up to 7 days.
The resulting spinned versions will be genuine-looking?
Of course, we do carefully copy-writing and proof-reading at every word, sentence, and final format levels. Every result will be unique while being genuine-looking.
Your SpinTax will really keep me away from blocks and bans?
As far as the SpinTax is concerned, yes. However, you must also take into account other factors on which the popular networks and platforms are acting with their anti-spam filters.
The reason of your messages, posts or profiles not breaking through, may be impacted by factors like: IP, device, action patterns, user reports, and other signals not related with the SpinTax content itself.
Can you make a SpinTax much larger than 500 words? If so, how can I order one?
We take custom orders also. For arranging a custom deal please don't hesitate to Contact Us via email or Skype.
What if I don't like the results? You will offer a refund?
We develop your nested SpinTax from your own base message, being an unique manual work done for every customer. Although we're sure you will love our work, we will only send a refund if we can't deliver during the 7 day maximum time-frame. In case the result is not in line with your requirements, we will happily do one free correction to your SpinTax.
Need more info?
Looking for more information about our SpinTax creation service? You can send us an email, add our Skype: office123accs, or join our Discord: https://discord.gg/aVGkHfA