Description
Take Your Pinterest Marketing at The Next Level
How our Pinterest creator can help you?
More accounts means more TRAFFIC, and more traffic brings MORE CONVERSIONS. Having a Pinterest account creator and being able to easily create virtually unlimited accounts, you can easily scale up your Pinterest marketing to huge traffic levels.
You can automate your accounts tasks with popular Pinterest automation tools like Ninja Pinner, PinPinterest, Jarvee, Followliker, Tailwind and many more.
These tools can automatically interact with other users and add pins to your network of accounts 24/7 – that's an easy way to generate lots of targeted traffic to your website which translates into SALES on AUTO-PILOT.
Content on Pinterest has evergreen value and a long shelf life, thus you will get traffic on the LONG-TERM.
Features:
Easy to use interface, no fancy design, just 100% functional.
Option to verify the accounts by email (pop3 access).
It adds a random biography, then follows a random number of users.
SpinTax support for biography, for mass changing profile bio's.
Option to create random board, then it fills the board with random repins.
Option to add avatar picture (random girl portrait).
Supports regular proxy, auth proxy and mobile modem connection.
Real-time logging window: monitor actions at every step.
Why choose our creator?
Having multiple options to connect, being capable of email verification, with safety features for improved account rating and the profile customization options in place, this makes our Pinterest account creator a unique and versatile tool that produces QUALITY ACCOUNTS ready to work for you.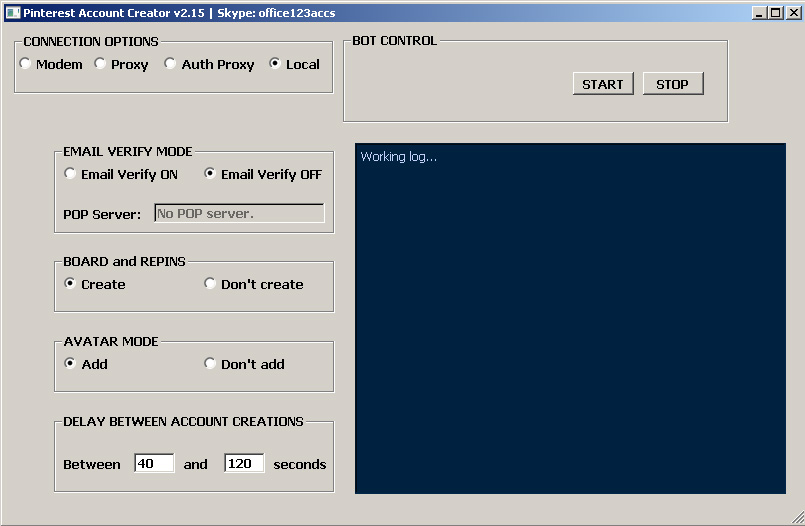 Example created account:
Pricing:
A low $64 one-time payment with a one month BONUS license included,  then only $16/monthly for maintenance and updates. Use the add to cart button and proceed to checkout. You will receive a software download link which contains usage instructions. We will contact you by email to activate your one month bonus license for your computer. You'll then be ready to create accounts in a matter of minutes!
FAQ:
How can I install the tool?
This is a Windows based software, it works only with Windows 7 and above. If you're using a Mac or Linux you can have it run on a virtualized machine or a VPS with Windows.
Can I try it before I buy it?
Yes you can, please contact us on Skype (office123accs) and we will send you the program and activate a 24 hours trial license for your computer.
What is the creation success rate and speed?
We're proud with a success rate of over 99% using valid data and good connection. Slow or unstable proxies will result in lower success rates. Furthermore, flagged IP's, or providing invalid creation data, or emails not accepted by Pinterest, will further lower the rate.
The tool is creating accounts at a relatively slow pace for safety, but it can output around 100 accounts/day with standard delays, or 200+ accounts/day without delays. That's a maximum capacity of 1000 accounts in only 5 days, which is plenty.
There's a multi-threading feature?
Our tool is single-threaded for creation safety, otherwise, the site could get a hold on the creation method resulting in updates of their filters. Using multiple threads for account creation is risky, and whoever does this risks a site update or getting their accounts flagged.
What data the software needs?
It needs a input list in the following format: EmailAddress,PinterestPassword,Firstname,Lastname,EmailPassword,OptionalProxy. You will need email addresses (optional, but recommended for future account verification checks) and proxies to be able to create Pinterest accounts, this is a service we don't provide, but here is a list of trusted proxy providers.
For the Firstname and Lastname data you can use this online tool: listofrandomnames.com And for the PinterestPassword data you can use this tool: random.org/passwords/
Can I use the software to follow/unfollow, like and do other tasks?
No, our software will only create the accounts. There are other tools that helps with automating tasks on Pinterest.
What is the refund policy?
If the software is unable to run in your Windows-based computer, and if we can't make it run via screen sharing, we will refund your payment. If Pinterest makes changes and our software will be unable to create accounts, we will try to release a working update in up to 7 days, if we fail doing so, we will refund your monthly payment for the current month (the initial payment is not covered by our refund policy).
Generate Quality Pinterest Accounts at the Push of a Button
While you're waiting, others are tapping on converting Pinterest traffic. Get your creator NOW and start building your network of accounts.