Description
Stop wasting precious time in trying to figure out (and type) the best hashtags and captions for your social posts.
When about social media management and marketing, there's a lot to be done. If you're going to grow one or many social profiles, one of the most essential part is adding the correct hashtags and caption to your posts. Without properly adding those, your posts will get little to no reach, resulting in missing the intended audience and finally, getting no sales.
To be able to avoid failure and stay ahead of the game in social media marketing, you need to properly prioritize your time, and start outsourcing tedious tasks. More than 70% of the time needed to post on social media is spent on typing hashtags and captions / descriptions. We have developed the perfect and most efficient solution when it comes to the best hashtags, while saving you precious time.
Leverage on the most efficient hashtags your posts can have at any point in time.
How posting the proper hashtags on your posts can help boosting reach, engagement and growth in social media?
Increased reach: Proper hashtags increases the reach of your posts and the visibility of your profile. Better visibility naturally attracts even more users.
More engagement: Having your posts easily discoverable will increase engagement with views, comments, likes and discussions – you will also extract crucial insights and feedback from these actions.
Faster growth: Visibility + engagement is triggering authority of your social content and profiles. This is naturally ranking your posts higher in searches, resulting in a quick-increasing fan-base.
More sales: Being able to increase your audience will ultimately result in more traffic to your sales funnel which equals more sales.
One of the less-known secrets behind top successful social posts.
Research shows that social posts holding the top positions in the searches are having a similar mix of specific hashtags. After analyzing big sets of data from Instagram, Twitter and Facebook, MIT students have found out that behind every successful post, besides account popularity and authority, there is also a little known secret: a specific pattern of hashtags accompanied over 90% of the top ranking posts: These included a mix of hashtags from the following categories:
Niche related: about 65% of the hashtags perfectly defined what the post is about.
Most popular: around 15% of the hashtags are widely used by a large percent of the network user-base.
Current trending: the remaining are mostly hashtags related with current or upcoming events, or about the current weather, season or universal world views at any given time.
We have implemented the above tactic into our tool, so you can take full advantage of – and stay ahead of the game when it comes to social media reach and growth.
But this is not all. We have implemented well-thought features to ensure high efficiency and variety of results, which will keep generating the ideal hashtags and captions for your posts for many years to come.
More than a simple tool – A service with updated hashtags lists, relevant captions and a growing number of supported niches.
Features and benefits of our hashtags and captions generator:
20+ supported niches in the most popular / lucrative industries, and growing. 7 supported social networks (on every social site roams a set of network-specific hashtags).
Three hashtag lists which are well-researched, vetted and constantly updated: MOST RELEVANT for the chosen niche; ALL-TIME BEST PERFORMING while excluding flagged ones; CURRENTLY TRENDING which is constantly aligned with actual trends.
Option to blend in from a fourth list of hashtags. A list containing motivational related, goals / success or work motivation hashtags which perfectly fits many niches and industries.
Fine-tuning settings for mixing and blending key hashtags together by your preference, using percentage values.
Option to take full control of the results by using your own local lists of hashtags.
Option to generate a niche-related caption for every set of hashtags. (This option alone will save you enormous time from figuring out phrases to describe your posts).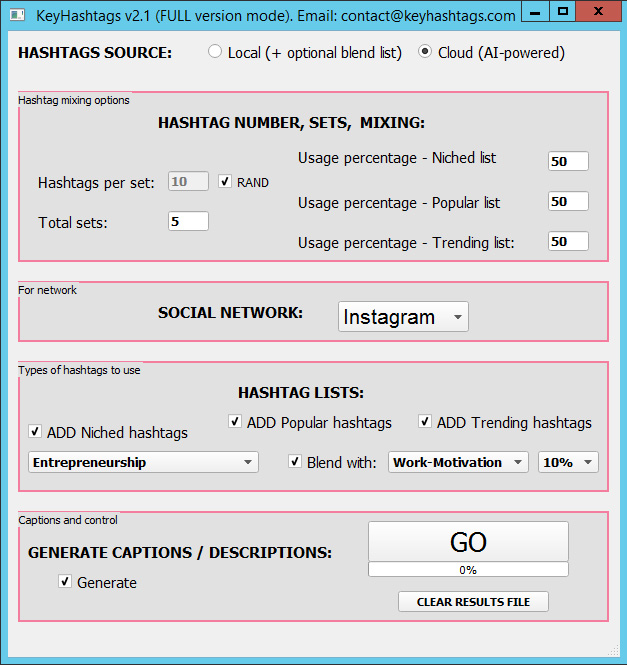 Watch the generator in action:
PRICING & FAQ:
What is the pricing plan?
The tool costs only $47 for LIFETIME (including 1 year of new releases). You will get the tool along with usage instructions and license for one Windows-based PC.
How can I install the tool?
This is a Windows based software, it works only with Windows 7 and above. If you're using a Mac or Linux you can have it run on a virtualized machine or a VPS with Windows.
What are the supported niches and social networks?
Current available niches (and growing): Fitness: workout, bodybuilding, weight-loss; Money, Wealth, Profit; Luxurious lifestyle; Business; Sales & Marketing; Entrepreneurship; Love, Dating Romance; Optimism & Positivity; Travel & Outdoor; Women fashion; Men fashion; Dogs; Cats; Quotes: life tips, work motivation, goals success, optimism and positivity, self-awareness, self-confidence; Words of wisdom.
Supported social networks: Instagram, TikTok, LinkedIn, Twitter, YouTube, Pinterest, Tumblr.
What data the software needs?
For standard functionality, you don't have to add any data. The tool is using our updated lists of hashtags from the cloud, while your PC is connected to the Internet. However, there is a separate option to use your own local lists of hashtags, and this is where you have to populate three .txt lists with your desired hashtags, line under line.
How can I use the lists of hashtags and captions for my social media posts?
After using the tool on your PC to generate sets of hashtags and captions, you have the following easy methods to make use of it:
If posting from your mobile phone or tablet, first copy the generated data from the tool's results file, while on the PC, and add it to a To-Do app like Wunderlist or Evernote (there are both desktop and web app versions), or send it over to your email. Having the To-Do apps installed on your device / or access to your email, you can easily copy sets for your posts.
Example of having the hashtags and captions sent to a mobile device by email, then copying a set to be used on Instagram: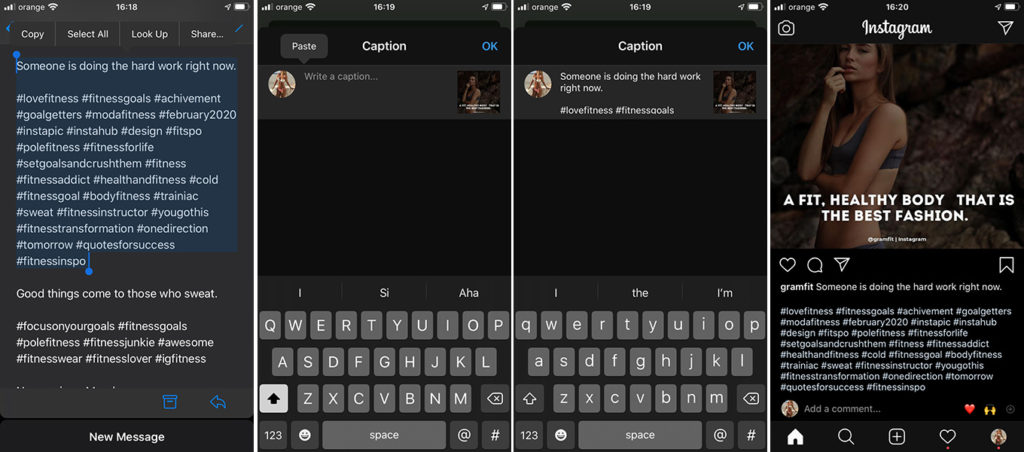 If posting from your Windows-based PC on a browser, you can simply copy the generated data from the tool's results file, then paste it to your browser during posting.
Could these hashtags and captions put my social profiles at risk?
On the contrary, our tool is doing a great job in mixing very relevant hashtags for every niche, mixed with a few of the most popular and trending hashtags, which is in fact a very effective method that can only do good to your posts and profiles. As far as we know, there are no terms against posting these types of hashtags on social networks.
While using your own local lists of hashtags, you should carefully add to those lists, because there might be harmful or flagged hashtags that may affect your account reach and status. Using your own lists with your chosen hashtags is your sole responsibility.
How often you update the tool, the hashtags and captions lists?
We keep improving the tool's features to stay up to date with the market needs. The hashtags lists are updated constantly, and supported niches are continuously increasing. You will be announced by email / tool's messaging capability about the new releases and with instructions on how to upgrade.
There are different update phases for each of the lists: We update the niche-relevant hashtags once per month, the most popular hashtags every two weeks, and the current trending hashtags weekly, but can be sooner if an event is happening and we find to be beneficial adding related hashtags about it.
What is the refund policy?
If the software is unable to run in your Windows-based computer, and if we can't make it run via screen sharing, we will fully refund your payment. There is also a full refund policy in the first 3 days since purchasing the tool. No other refunds will be made except the previously stated situations.